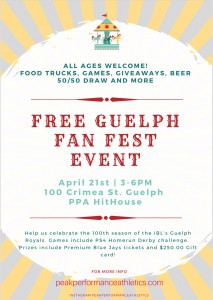 You Ready for this?  PS4 Derby contest, Food Trucks, Beer Stand + Lounge, Premium Jays Ticket Giveaways, Radar Gun + Blitzball contests, Senior IBL Royal autograph signing, uniform unveiling, kids press conference, $250 Hithouse Gift Card Entry, 50/50 draws and so much more.  Magic 106.1 and CTV NEWS will be in " the house".  Will you?
All Ages welcome to this Free event.  Come join us in celebrating the Guelph Royals 100th "The Boys are Back" season!
Doors open at 3:00pm on Saturday April 21st.