COVID 19 UPDATE:  PPA Hithouse is currently closed.  We are starting to take lesson requests and looking to restart sessions as soon as we get the Green Light from the Province.  Please Email to request private sessions.
We are yet to open our doors as the Ontario Government has only granted permission to Outdoor Batting Cages to be open.  We continue to try and do the right thing and abide by the regulations that our government has outlined.  As soon as indoor batting cages or private indoor baseball instruction is allowed we are prepared to open with strict health guidelines in place.
We are getting closer and cannot wait to hear the crack of the bat in the facility again.
The City of Guelph has cancelled all Baseball Diamond rentals until Sept, 2020.  Because of this PPA is cancelling all of its 2020 Summer Camps.
We have a July to August Supplemental Baseball Program released which will maintain safe social distances and allow our players to thrive during these summer months.
Check out the blogs tab for more details and email now to register as spaces are extremely limited.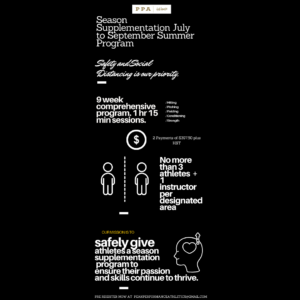 WE DO BASEBALL & SOFTBALL.
Why PPA hithouse?
We want to challenge the status quo in the baseball and softball society.  We train athletes and get them to their peak performance.  We strive to grow our athletes as a person physically and mentally.
Our Instructors are all ex college athletes and provide our clients with the latest in training techniques and information.  They are all very well rounded individuals with great communication skills and a passion for passing on their knowledge to other athletes.
Our facility is 8700 sq. feet and includes 5 batting cages,  4 pitching mounds and a defensive area.  In addition to our facility we now have brand new weight training and cardio equipment.  This includes, TRX, dumbbells, squat racks, tires , spin bike and treadmill. If your looking to get back in to shape or are looking to lose a few pounds, then check out our Personal training area.
Please feel free to swing by and check out our facility or contact us with any questions.
We hope to see you soon.
" If my uniform doesn't get dirty, I haven't done anything in the baseball game. "
What are our clients saying?
One of the most important things about Andrew is that there is only one promise made.  It's not about being an elite player, obtaining a baseball scholarship to the university of your choice or making a certain team.  The promise is that a player will get as much out of the lessons as (s)he is willing to put the attitude and effort into each lesson.   As the players buy into that, it's amazing how it transcends ball into other areas like school work!!

Thank you, Andrew.  Mark's success is a testament to your efforts as much as to his.
Andrew and his team offered a professional teaching style that incorporated great technique for a young player to become successful in hitting, fielding and pitching.  At the same time providing a fun, safe and inviting environment for the players to come together as a team in the off season.  I would and have recommended Peak Performance Athletics to every team in my own organization of Halton Hills and in the COBA loop.  Continued success to PPA and thank you for all of the success you have brought to me personally, my coaching staff and especially the players that you have trained over the years.
Cortney's 1-1 sessions with my daughter are always well planned and have changed throughout the years to match her developmental level. These sessions have kept my daughter at the TOP of her game!
My daughter has been a regular client at Peak for several years.  The positive atmosphere and encouragement from all the staff at Peak have and continue to motivate her to excel both offensively and defensively.  She recently committed to a school in the Southern States and without a doubt it was the instruction she received at Peak coupled with her desire to reach this goal.  Her performance on the field as well as her coachability is a direct result of the superior coaching she received at Peak Performance.  I would strongly recommend any child interested in fastball/baseball should go to Peak it will truly be the best investment in their future as Peak kids standout in every way – ability, performance and attitude.
Recently our daughter Kael committed to a university in the US on scholarship to play softball and it would not have been possible without the elite level instruction and mentoring by Cortney.  Our daughter has worked with Cortney for the past 7 years and we cannot emphasize enough how invaluable her coaching has been. Cortney is a qualified, expert instructor who, having the experience playing at a D1 university, knows what it takes to get to the next level. We are very impressed by her vast knowledge of the game and that she constantly networks with colleagues to learn the latest information and techniques.
THE HITHOUSE BLOG
With Baseball seasons being cancelled around the province, PPA Hithouse has designed a 9 week program to run from July to September which will allow our athletes passion, skills and growth to continue [...]
Are you the next Hithouse - Student - Athlete? We are excited to announce our new EXCLUSIVE Baseball and Softball PARTNERSHIP with Next Level U Sports.  Next Level U is the only Canadian [...]
Peak Performance is always looking for individuals to help out with camps and clinics throughout the year. If you have a baseball or softball background and are a well rounded individual, then you are [...]
Achieve Your Performance Goals